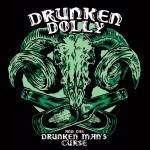 CelticFolkpunk.blogspot.nl
"2015 is being a good year for banjo/mandolin driven Celtic/folk punk bands. First Punching Namard demos, then Mick O'Toole second EP and now Drunken Dolly new EP. Go to Bandcamp and buy this EP straight away, because it's a must have for all the Celtic folk punk fans."
Read full article here!
---
LondonCelticPunks
"It may not be very long at just over ten minutes but this is as good a EP as has been released this year. Four songs of fantastic celtic-punk that is firmly within the Dropkicks camp but will equally appeal to fans of the Mollys too. I may be new to them but will be following what they do very closely from now on and I suggest you do too."
Read full article here!
---
Troublezine (Italian)
"Normalmente quando parliamo di Olanda (e ancor più nello specifico di Rotterdam) siamo alle prese con band prettamente poppunk: con i Drunken Dolly ci si inoltra invece nei territori del folk e della tradizione celtica mischiati con un sano punk rock di base.
Conoscevo già la band di nome in quanto ne fanno parte sia Mikey (Bat Bites, Apers) che Scott (ex-Bat Bites) e con l'uscita poco tempo fa del loro primo ep li sento per la prima volta."
Read full article here!
---
Camielmusic.nl (Dutch)
"Het is een en al knallen zoals we de Ierse folk/punk muziek kennen. Daar is geen woord over gelogen! Je zult ook geen seconde kunnen stilstaan of rustig op een stoel kunnen zitten als je dit hoort. Gewoon gas geven!"
Read full article here!
---